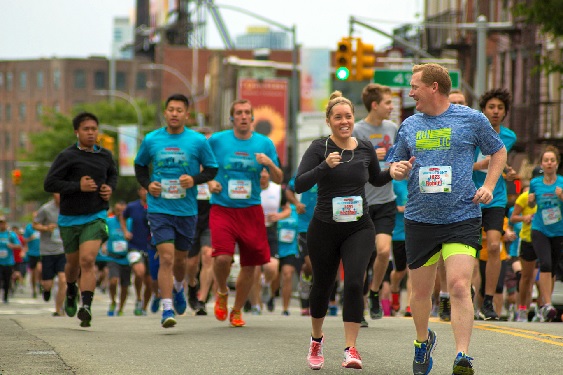 April 3, By Staff Report
Registration has opened for the 3rd annual LIC Post Waterfront 5K, which will take place in June to raise money for the Hunters Point Parks Conservancy.
The event, scheduled for Saturday, June 2 at 9:00 a.m, is for both runners and walkers, and as many as 1,500 attendees are expected to participate. Children's dashes on Center Boulevard will take place immediately after the 5K. The dashes have become an extremely popular component of the event and are open to children aged 2 to 9.
The number of participants at this year's event will be capped at 1,500. In previous years, the event was sold out before race day when it was limited to 1,200.
Opening ceremonies will begin at 8:30 a.m. with the 5K scheduled to start at 9:00 a.m. The Center Blvd Dashes for kids aged two through nine will follow along with an after party at LIC Landing.
"The event has been a smashing success since it began in 2016," said Christian Murray, publisher of the LIC Post, which is organizing the event with the Hunters Point Parks Conservancy and Woodside Sunnyside Runners. "The run has proven to be an event that the entire community takes part in."
Registration for the 5K is $25 for adults and $15 for kids. People who register before May 17 are guaranteed a race-day T-Shirt and swag bag.
All proceeds will support the Hunters Point Parks Conservancy, a nonprofit formed 20 years ago (as Friends of Gantry Plaza State Park) that provides event programming, maintenance and conservation efforts for the waterfront parks.
The 5K route will start next to Hunters Point South Park. It will then go through the shopping district on Vernon Boulevard and all the way over to Queensbridge Park before circling back toward Gantry Plaza State Park and Center Boulevard.
"It has been very rewarding to see how the community has embraced this run," said Hunters Point Parks Conservancy President Rob Basch.
Basch said some of the proceeds from the run will be used for programming events and maintenance in both Gantry Plaza State Park and Hunters Point South Park.  Popular programs such as "Summer Kids," art classes, yoga and fitness, music, dance and movies are all partially funded by this run.
Funds are also used to supplement maintenance and gardening activities in both waterfront parks.
Basch also indicated that with the eminent opening of the Phase 2 extension of Hunters Point South Park, there will be increased need for funding and volunteers to help keep the parks pristine.
"I would like to express my thanks to the sponsors and residents for making the run/walk possible," Basch added. "This event could not happen without the support of our community, our wonderful sponsors, parks employees and the 108 Police Precinct."
There will be awards for the fastest runners in all age groups for each gender.
Following the 5K, there will be a Center Boulevard Sprint for kids two through nine.
Attendees can stay at Hunters Point South Park after the running event for a party with live music, and food and drinks available at LIC Landing.
Ann Sansaricq, an organizing leader of the Woodside Sunnyside Runners, said that in past years she's also loved watching how the community has embraced the event.
"There are racers running against the clock as well as people just looking for some outdoor exercise, people running with dogs and parents running with kids in jogging strollers," she said. "It's open for everyone. If you're thinking about doing your first race, this is the perfect opportunity."
To register for the event click here.
The entire's day program is rain or shine and registration is non-refundable. If participants are unable to attend on race day, they have the ability to transfer their registration and bib number to another individual.
This year, attendees will be able to register as teams, as well as to create their own pledge pages in order to help raise funds.
Several companies have already come forward as early bird sponsors for the event, including:
Diamond Sponsors: TF Cornerstone and LIC Dental Associates
Platinum Sponsors: Plaxall, Chelsea Pediatrics Dentistry and Metro Orthodontics
Gold Sponsors: NYC Ferry/Hornblower, Rockrose, Ravenswood Generating Station and Crossfit Gantry
Silver Sponsors: Related Companies, Modern Spaces, M&T Bank, Manducatis Rustica, Councilmember Jimmy Van Bramer and New City Church
Bronze Sponsors: Mount Sinai Queens, SHI, Jackson's Eatery, Woodbines.and U.S. Congressmember Joseph Crowley
The Smith Team of Stribling & Associates and Food Cellar have also committed to sponsor this year's event.
"We are happy to support the LIC community and the Hunters Point Parks Conservancy," Dr. Rita Taliwal of Metro Orthodontics said. "It's the perfect opportunity for us to give back, and we had a great time at last year's race,"
Sponsorship is still open. Businesses that are interested in receiving a sponsorship kit are asked to e-mail [email protected].
No comments yet