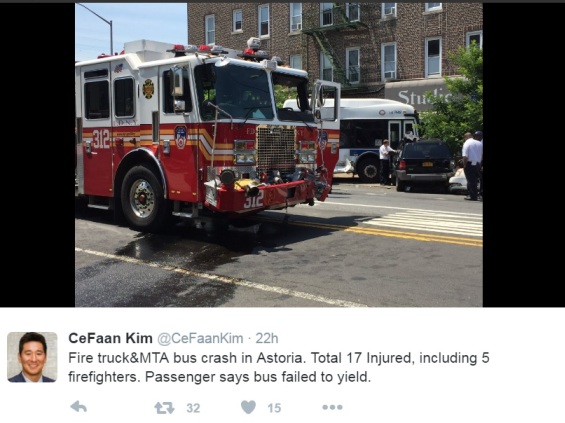 June 27, 2016 By Michael Florio
A bus collided with a FDNY truck in Astoria Sunday leaving 19 people injured, including five firefighters.
The FDNY truck was on its way to a fire with its lights flashing and siren screaming, when it was struck by a Q100 bus at around 12:30pm at the intersection of 21st Street and Ditmars Blvd.
The accident left 19 people injured, although none of the injuries were deemed life threatening, an FDNY spokesman said.  However, a pregnant woman, a 9-year-old girl and a baby were hurt.
One firefighter suffered lacerations to the back of his head, and another had injuries to his back and neck, a NYPD spokeswoman said.
The bus had the green light when it struck the firetruck, the New York Post reported.
A spokesman for the MTA was unable to confirm this, but stated that the agency is investigating the accident.
The truck was heading to a blaze at 8-01 26th Ave, according to an FDNY spokesman.
That fire was called in at 12:14 pm and was under control at 1:19 pm, the spokesman said.
11 Comments
Click for Comments